What is the Sea to Sky Highway???
The Sea to Sky Highway starts at the U.S. border just south of Vancouver and extends northwards for 409km to just outside Cache Creek where it joins up with Hwy 97. Considered one of the most beautiful drives in the world, this section of my tour made for some real challenges and a lot of excellent views during the first few days of my bike tour.
Day 1 of my Bikepacking Canada Adventure started with me dropping my wife off at the airport before making the big depart. Rolling out of Burnaby I took the Irongate Bridge and crossed over to North Van and then headed west to meet Nima near the Lionsgate Bridge. After meeting up we rode together along the coast and made our way to Horseshoe Bay for some ice cream and pictures together. It was now time to say goodbye and part ways.
I had been given some pretty good advice by a friend of mine to stay on the inside of the shoulders near the rumble strip so as to avoid the sewer gates that dip down into the road. It seems that the companies that maintain and re-pave the road are too cheap to raise the grates, so they effectively get lower and lower into the ground. Pretty dangerous and important to avoid. After arriving in Squamish I quickly realized my massive expectations of huge days was overstated and decided to only go as far as Whistler. The day was beautiful and the 143km blew by. I also didn't realize that I had climbed 2200 metres of elevation. About 15km before Whistler, there was a pretty good viewpoint of some snow-capped peaks with glaciers topping the view. Not bad for day 1.
Deciding to stop in Whistler I sent out a few messaged searching for a Warmshowers host. Fortunately, I was able to find one not too far from town. Even though Covid is a fear on everyone's mind and my hosts and I stayed well enough away from each other, they were absolutely spectacular and made me feel so welcome. Funniest part of the encounter was when I fist knocked on the door, the first thing she said was, "That's not a Bike Friday!" As I was pretty tired, I decided not to cycle into the Whistler Village to take pictures, but to wait for the next morning to hit it up on my way out of town.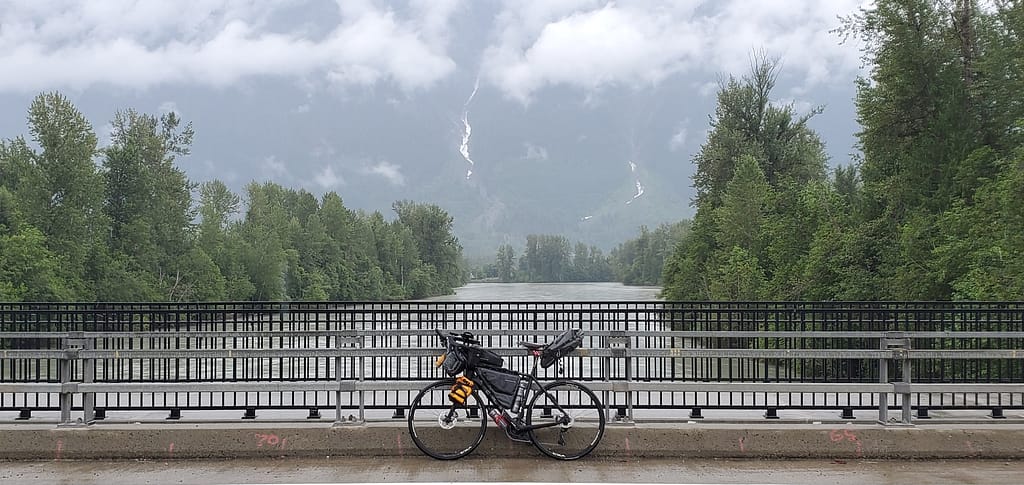 Day 2 of the Bikepacking Canada Adventure had me waking up in a cold and wet Whistler with no view of the mountains. Deciding to leave town, I headed from Whistler Mountain to Pemberton and then up and over the Duffy Pass and down to Lillooet. The hardest part about the day's ride was the climb from Pemberton which took me up 1100 meters in elevation over a 14km climb. Talk about tough, especially with a loaded bike. Coming down was fast, sweet, beautiful and epic, reminiscent of some of the descents I've done in Asia.
Half was to the bottom I was fortunate to meet Forrest, a Manchester boy living in Canmore doing his first bike tour. After chatting for a bit we descended the last bit into Lillooet, where I got myself some Chinese food, which went down especially quick, seeing as I was starving. After finding an amazing camping spot along the Frasier River and getting a few beers to celebrate making new friends, it was time to sleep.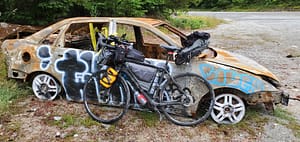 Day 3 of the Bikepacking Canada Adventure started put pretty laid back and chilled out. Forrest and I woke up at 6am and after packing up our respective camp spots we spent some time making breakfast, talking and servicing our bikes. After a quick stop at a gas station to fill up our bottles and go to the toilet, we left town and started to climb out of the valley.
Before too long we ran across another bikepacker from Vancouver Island. I can't remember his name but he had a pretty heavy setup and was doing more of a back-roads tour along the Fraser River. He turned off at the little village of Pavillion. Not long after,f Forrest and I had a break at the cultural centre and took that opportunity to fill our bottles again, as it was a pretty sunny and hot day.
While passing Pavillion Lake we found the perfect spot to take a short swim and cool off. This lake is famous for having some type of microorganisms that date back to the beginning of life on earth. Pretty cool. After the long descent to the end of the highway and the junction of Hwy 97, it was time for Forrest and I to part ways. We took a late lunch break, and had a quick picture together before I started to make a push for 70 Mile House.
Along the way I took some time and stopped at the Chasm, which dates pack 11,000 years to the Ice Age. Also pretty cool. Finally, just as I was about to enter 70 Mile House I saw a massive bird fly up from the side of the road. To my surprise it was a Bald Eagle and it landed on a telephone pole nearby. After 146km and 2000m of elevation I was thoroughly spent and managed to find a decent camping spot in someone's yard. Unfortunately there were tons of mosquitos and it rained all night long, meaning I had to pack a wet tent the next morning.
Overall, it was an awesome day and a great 3 days on the Sea to Sky Highway covering a total distance of 333km before reaching the Cariboo Highway.