Eastern Yellowhead Highway
Originally constructed in 1970, the Yellowhead Highway stretches across the four Western Provinces, starting just outside Winnipeg, Manitoba and going all the way to Prince Rupert, B.C. The highway is named after the Yellowhead Pass, which gets its name from the french explorer Pierre Bostonais, who just so happened to have yellow streaks in his hair.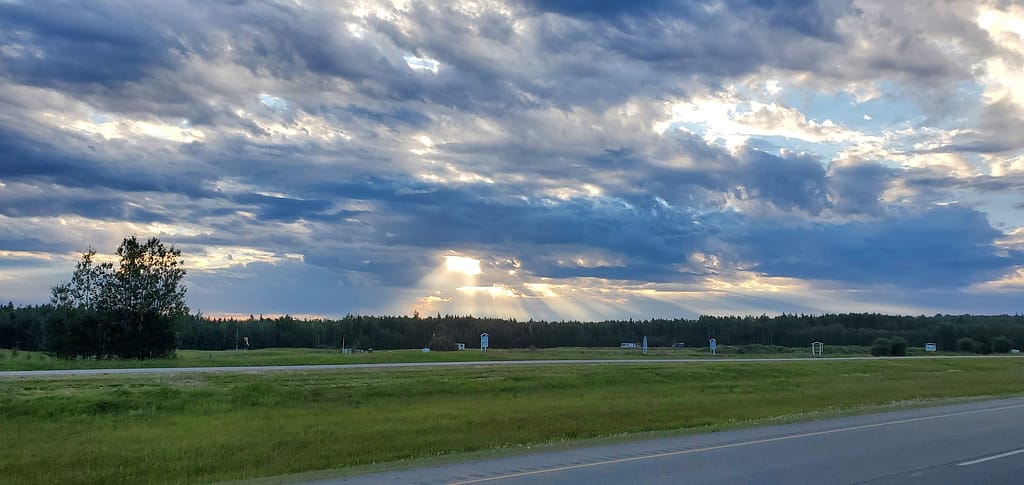 Day 28 had me waking up on the side of the highway and to my surprise, right across the street from a gas station. After packing up I went to the gas station to prepare my breakfast and buy a coffee. This was August 2nd, my anniversary, so I called my wife to talk with her and see how she was doing. I got back on the road around 9am with the goal to cover a bunch of distance. I reached Valleyview after about 80km of riding into what was becoming a hotter and hotter day. After the temperatures of the mountains in B.C and Yukon, it was tough to get use to riding in hot temperature. After a short Timmies stop, I was back on the road and heading south. By the time I reached Little Smokey I was almost out of water so I went up to someone's house and knocked to ask for a refill. They gave me water and a heads-up that a big storm would be coming later.
Half way from Little Smokey to Fox Creek I stopped at a rest stop to use the toilet and got a couple more bottles of water from a family I spoke with. They also warned about the storm. By this time I was starting to consider my plans for the night. 10 years ago I had driven through one of these storms in the Prairies and it was brutal. The wind was so strong that my radio antennae was sideways. The weather forecast showed thunderstorms for most of the night so I opted to get a hotel in Fox Creek. Since Whitecourt was another 80km away, I wasn't sure i would be able to safely make it there in time.
So I did what any sane person would do. I got a hotel, tuned in to the Toronto Maple Leafs game, and ordered a pizza. I also did some sink laundry and hanged everything up to dry. It was also time to swap the chains on my bike and get ready for the next 1200km, the distance I generally rode between chain swaps.
Day 29 of the Bikepacking Canada Adventure started bright and early with me waking up in the hotel in Fox Creek. After quickly eating and packing up all my clean, and mostly dry clothes it was on the road making my way to Whitecourt. It was a good start to the day with a tailwind, and even though my legs weren't feeling very fresh first thing in the morning I was able to average 27 or 28kph.
When looking at the map, I knew that Edmonton was 250km away and thought I should make a push since I had a tailwind. It made sense not to go through Edmonton so at the town of Onoway, I changed onto Hwy. 37 in the direction of Fort Saskatchewan. With the temperature being as hot as it was, there were some severe thunderstorm warnings and for the last couple hours I could see the clouds closing in on me. Just as I arrived in Fort Saskatchewan it was starting to drizzle and I knew it was about to come down. The weather app said it would rain for a big part of the night and again early in the morning, so I decided to call it a day and book my third hotel for the trip. I had hoped to ride further, but sometimes you need to make smart choices, especially when it comes to Prairie storms. In the end I cycled 268km and climbed 1275m of elevation. Tomorrow would be another day.
Day 30 of the Bikepacking Canada Adventure was epic unto its own. Although I didn't take many pictures, I pushed an epic distance cycling from Fort Saskatchewan (Edmonton suburb) all the way into the province of Saskatchewan. With an initial goal of getting to Vegreville for lunch, at a distance of about 150km, I was able to get there for an early lunch at Tim Hortons before continuing on the way towards Lloydminster, 240km from Fort Saskatchewan.
Having stayed in a hotel the previous night I was able to be ready to rock and roll bright and early in the morning without having to pack up a wet tent. I rolled in to Lloydminster at around 4pm having cycled 240km in about 8 hours, and other than needing food and a bit of rest I was ready to push on into the evening and test my mettle. After a stop at Carl's Junior for 2 burgers and 2 shakes, I went to a bike shop to look for electrolytes, as I was starting to experience leg cramping, which is not something I usually suffer from. They directed me to a local gym that sells supplements and the Kiwi girl that owned the place was so stoked by my tour that she gave me them for free, recognizing the importance of getting the right nutrients into the body. Tim Hortons, KFC, and Carl's Junior was no longer achieving my dietary needs. Neither were Snickers bars, jujubes, and licorice.
Leaving Lloydminster at about 6pm as planned. I started into the evening heading towards The Battlefords and rode until about 9:30pm before deciding that enough is enough and that it was time to camp. Once again, this is something that I would come to regret as the next day's temperatures would make me wish I had of ridden late into the night. I found a sweet little camping spot just a few km off the main highway, overlooking the North Saskatchewan River.
After 11 1/2 hours of cycling I had covered 343km, climbed 812 metres in elevation and averaged a bad-ass 29.7kph. All-in-all a hell of a day and what would come to be the longest single-day ride during the tour.
Day 31 of the Bikepacking Canada Adventure started off pretty nicely as I made my way up to The Battlefords where I would stop for a good breakfast at Timmies. While there I found out from some local cops that the heat would be at record levels. Ultimately my computer says it got up to 39 degrees Celsius, which is pretty brutal. Luckily I made it to Saskatoon by around 3:30 or 4 and was able to rest until about 6pm at a KFC, all the while eating and drinking sugary drinks.
Leaving Saskatoon was a bit of a pain as I had to navigate a lot of traffic while cutting through town, including a few disrespectful drivers that passed awfully close, just to show their displeasure of having to share the road. Luckily nothing happened and I made it through and even had a brief stop at McDonald's for ice cream and Dollarama to restock on snacks.
By the time i got out of town and back on the highway it was just past 7pm and I knew I wouldn't get too far before night arrived. I decided to ride until I was too tired, which ultimately wasn't that far. I guess that is to be expected after the massive ride the day before. At 10pm I stopped in the town of Colonsay, refilled my bottles at the gas station and pitched my tent in the park in town. With a sweet little spot behind a little building which blocked the street lights i was set for a good night's sleep.
All-in-all I rode 260km in 10 1/2 hours averaging 24.7kph. A good ride nonetheless, even without a tailwind.
Day 32 of the Bikepacking Canada Adventure had me waking up in Colonsay and wishing I would have ridden a few more hours the previous night, rather fight the crazy headwind that I was now experiencing. I decided that I would slow the pace, and take bigger breaks to recover from the extreme heat. When speaking to my buddy Nima, we both agreed that it wastes too much energy to push hard against a headwind, so I may as well set a slower pace, ride a shorter day and let my body rest and heal. Although it was a tough day, it was filled with beautiful skies, fields and roads. The Quill Lakes district was really nice to ride past, with surprisingly big lakes in the region. In total I cycled 176km and climbed 350 metres of elevation, averaging 20kph. It feels as though my rest days are longer than most peoples big ride days. Such is the life.
Day 33 of the Bikepacking Canada Adventure had me wake up in Foam Lake where I had camped in a campground without paying, since no one was there to take money and I didn't have small bills. I generally don't stay in campgrounds as I arrive quite late and leave quite early. Not good value for money. But on this occasion I decided to.  I got up early and rode to the small hamlet of Sheho where I ate breakfast and managed to find the local clique of old timers where I could get a fresh coffee…or 3. After a quick rain shower it was time to start riding. Expecting a change of wind direction by around 11am, i took it nice and easy and pushed on towards Yorkton. 11am came and went and still no change in wind direction. I knew i just needed to be patient and bide my time. It's pretty amazing to ride through the Prairies and see how much of an impact Ukrainians made to the development of this part of Canada. Although many of the younger generation have moved on to the cities, Western Canada would never have developed to such a degree. The area is littered with Ukrainian Orthodox churches and posters of strong Ukrainian boys that made it to the NHL. Pretty special to see. Arriving in Yorkton I had some Chinese food for lunch and took a picture of the Ukrainian store. Reminded me of my travels throughout Ukraine when I went in and checked it out.
By around 6pm I reached Langenburg and stopped for Subway. I could feel the wind starting to change direction and was happy to continue on after a food stop. I decided that this night would be different and I would push it much further than usual. Just after leaving Langenburg, I saw my first cyclist in 12 days. Joe was riding from Thunder Bay and heading towards Whitehorse. He was absolutely shocked that I had only left Whitehorse 12 days earlier. He was planning 6-7 weeks for the ride. I told him i would be riding late into the night as close to Minnedosa as possible. Shortly after leaving Joe I passed into Manitoba, province/territory number 5. It was a good feel and after a bit of a downhill, the first in days, and a bit of a climb, also the first in days, I reached Russell, a pretty big town where i quickly drank a coffee and ate a donut at none other than Timmies. It was already nearly 10pm when I reached Russel, but with the nice cool weather, I figured it's a good day to push as far as possible. I was really pushing hard to reach Winnipeg by the end of the following day, as I had a place lined up to stay at. My friend from teachers' college, Emily, asked her parents if they would host me when I arrived, so I was pretty keep to get there so I could sleep in a real bed and eat real food.
The beauty of riding on this particular night was trifold. First, I was able to listen to the radio broadcast of my favourite hockey team as they made an unprecedented comeback, scoring 3 goals in the last 4 minutes of an elimination game. Secondly was that I got to witness the most amazing sunset and night sky until I stopped riding at around 1am. Thirdly, there was a massive storm off to the east which was giving me the most insane lightning show, lighting up the entire sky. Just to be safe I checked the weather radar and could see that it was over 100km away from me and that the only i could see it at all is because I was in the Prairies and it's so flat. Unfortunately I found out the next day that there was a tornado and 2 people died. It was a vicious storm of epic proportions and I felt bad for enjoying the ride so much the previous night.
I ended up riding until the town of Shoal Lake where i found a great spot to camp behind an old building's foundation. With the goal of making it to Winnipeg the next day I was going to have to get up early and push another big day.
There was one problem that started on this particular day and that was that I noticed a bit of pain in my left knee. It was intermittent but gave me something to think about and to keep an eye on. By the end of the evening I had ridden 273km and climbed 500m of elevation, averaging 21.7kph. Not bad considering the tailwind came almost 8 hours later than expected.
Day 34 of the Bikepacking Canada Adventure turned out to be last day of the bike tour. But before we get to that let's talk about the day in general.
Waking up at Shoal Lake I was ready to push on towards Winnipeg. With about 270km to get there I knew it was going to be a tough-ass day. Fortunately I had a tailwind and was able to make good time, but it was another ridiculously hot day and it was going to be a challenge to keep hydrated, fueled with energy, and make it to my friend's parents by 7pm as I had told them. Also, it turns out that in the case of Winnipeg the distance denotes the outer edge of the city and not the actual city centre as is more common. This meant that 270km quickly became about 295km and with all the constriction along the highway as you approach Winnipeg, traffic was a nightmare, the shoulders were non-existant, and 9 hours of intense heat was starting to getf to me.
Just outside Winnipeg, with about 33km to go, I decided to pull into a gas station and find a pickup truck that would be willing to let me hitch a ride. Lo and behold, the first truck I asked happened to be going around the city to the other side and could drop me to within a few km of my destination. This was great as my knee was in pain a bit more on this particular day, my saddle sores were getting worse, and the road conditions were atrocious. It also turns out that the guy that gave me a ride, Barry, was from Selkirk, a small town north of Winnipeg where my ancestors on my dad's side had immigrated to. It also turned out that Barry also knew my dad's cousin Leonard, as they both worked in the trucking industry and grew up near each other. It's funny how things work sometimes and how small the world really is.
Arriving at Emilie's parents place I was spoiled with a wonderful dinner, strawberry-rhubarb pie, ice cream, a hot shower and a bed to sleep in for the night. ALL GREAT STUFF!!!
Now came the tough decision. Having covered nearly 3000km over the previous 13 days, i was starting to wear out and needed a rest day. Unfortunately, with the need to cover 1500km in 5 days time was not a luxury I could afford. I also didn't want to take the chance of causing my knee and more damage than was truly necessary. As it had been hurting over the past two days, I figured this was the logical time to book a flight home and call it mission complete.
So here I am, done my tour, having cycled approximately 5500km. Although I haven't yet ridden all of Canada, I am well on my way and am looking forward to having the chance to finish it in the future.
I hope you enjoyed the read. You can also check out my podcast as I posted a daily Ridecast where I talked about the daily events. Cheers and keep on pedalling.