Chiang Mai, the largest city in the northern Thailand is not just an amazing city to spend a few days or weeks, but is also the traditional starting point of the Mae Hong Son Loop, a 650km stretch of road going through Pai, Sop Pong, Mae Hong Son, Khun Yuam, Mae Sariang, and Mae Chaem. This road is in remarkable condition, and provides over 13,000 metres of climbing and more than 4000 turns, a blend of difficult climbs and thrilling descents. While traditionally ridden by motorcyclists, it is becoming ever more popular on the bike touring circuit as well. 
This is not an easy beginner ride, but requires a good degree of conditioning prior to attempting it. With gradients regularly being over 20% and sometimes even in the 30% range, this ride will both physically and mentally challenge you. Those that take on the challenge will be rewarded with amazing views, wonderful people, and a story of a lifetime. 
There are a few things to take into consideration before embarking on this bike tour. Should it be done clockwise or counterclockwise? What type of bike should you ride? How many days should you take?
I decided to ride it counter-clockwise as I figured it would be good to have a rest-day after reaching Pai. If going clockwise, due to my schedule, I wouldn't have been able to take a rest day until reaching Mae Sariang, which is around like 240km away. For the majority of riders, using a mountain bike or touring bike would be the best option, as it would allow lower gearing for those long arduous climbs. If you are a strong cyclist that regularly does 100km rides in hilly areas, you should be fine doing the loop on a road bike. However, I would recommend using an 11-34 or 11-36 rear cassette. 
I recommend giving yourself 7-12 days to complete the loop including rest days. I allocated 8 days (6 of riding) to complete the loop, but would recommend for most people to add a few more days and really enjoy the nature and towns of Pai, Mae Hong Son, Sop Pong, and Mae Sariang. 
Check out my video of the Mae Hong Son Loop
Chiang Mai to Pai --> 127km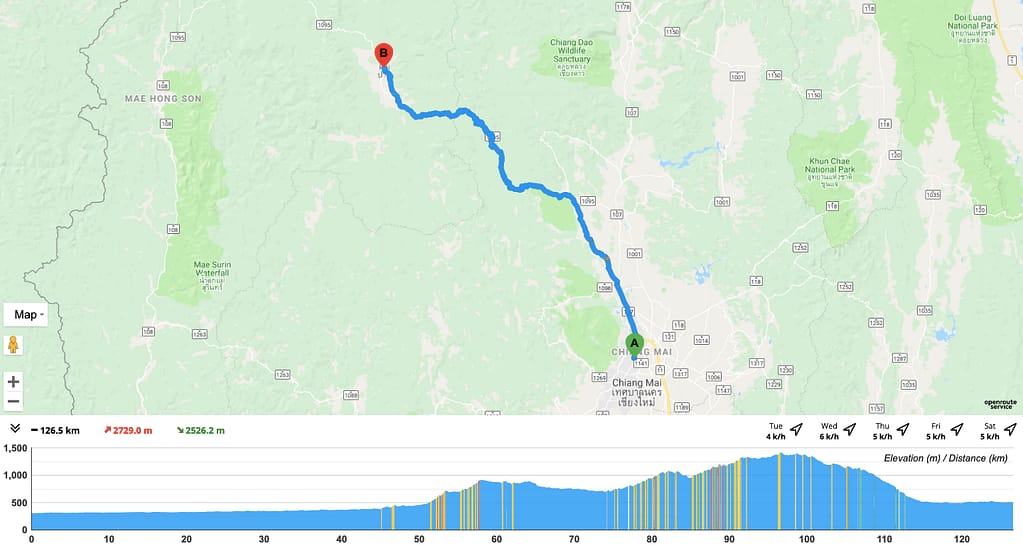 The ride out of Chiang Mai starts off nice and flat, making for a really nice way to warm up before the climbing begins. I chose to turn off the 107 and onto Route 3009 and ride through farming villages, past numerous temples and past the Chiang Mai Erotic Garden. If you have time, why not stop and check it out. You'll turn left onto Route 1095 after around 40km and 5km later begin to climb. The rest of the day will be filled with lots of 10% climbs (yellow) and 7 climbs of at least 20%. 
After the first series of climbs, 60km away from Chiang Mai, you'll reach a little town of Pa Pae, where you can find accommodations if you are feeling a bit battered, or are in no rush and really want to make the most of your time around the Loop. With 30km left to ride before reaching Pai, you'll reach your peak elevation of just over 1400 metres. Enjoy the downhill into Pai. You deserve it.
Pai to Mae Hong Son --> 106km
The ride from Pai to Mae Hong Son can be broken down into two parts: Pai to Sop Pong, and Sop Pong to Mae Hong Son. The climbing starts not too long after leaving Pai and doesn't let up much until reaching the Kiewlom viewpoint after 24km. It's a long, non-stop climb, that doesn't give much chance to your legs to rest. However, there are some amazing views to be had and you should definitely take breaks to enjoy them. The descent into Sop Pong is about 17km long and encompasses long winding descents through numerous hairpin turns, all the while descending back down into the heat of the tropics while passing rice paddies and little villages.
If time isn't an issue, it would be a good idea to enjoy a day in Sop Pong. It's a very chill little town with good cafes an lots of adventurous activities to do, such as Tham Lod Cave, one of Thailands most impressive and easily accessible caves, Mo Peng Waterfall, and Sai Ngam hot spring. Sop Pong is the caving capital of Thailand and apparently has over 200 caves. Take your time and enjoy it before getting back on the bike.
The second leg of the journey is from Sop Pong to Mae Hong Son. This 66km journey will challenge the legs of those trying to do the route in one day, as the downhills are not so long and you feel as though you are constantly climbing. There's a nice rest-stop at the 56km mark with lots of shops and a place to take photos and have a rest. 88km into the ride you exit the mountain range and ride in the valley following the Sa Nga River all the way to Mae Hong Son.
Congratulations, you've made it to Mae Hong Son!
This is another town where you should take some time to enjoy the local area. The town boasts an excellent night market, the beautiful Wat Chong Kham, Wat Phrathat Doi the 19th Century Burmese-styled monastery at the top of the hill overlooking the town, Kiew Lom viewpoint, and of course, the long-neck villages of the Karen people near the Burmese border. Unfortunately I only rested for half a day and then pushed on to Khun Yuam.
Mae Hong Son to Khun Yuam --> 84km
Although only 66km from Mae Hong Son to Khun Yuam, it's the biggest town on the way to Mae Sariang, which makes it a natural stop-over. I decided to extend the trip by about 18km by first going to visit the Karen Longneck Village not too far from Mae Hong Son town.
This ride starts off really beautifully in the Mae Hong Son valley, following gentle curves through lush farm lands as you make your way to the first (and only) big climb of the day. 15km into the ride you start a 2km climb into the mountains, with the remainder of the ride providing you spectacular views of distant valleys, and even the Mae Surin waterfall off in the distance while resting at the lookout. While not a difficult day, I started pretty late and ended up arriving in Khun Yuam after nightfall. I could have gone to see the sunflower harvest, but with the plans to ride all the way to Mae Sariang the next day, I decided that food and beer were the answer to my problems.
Beware what you book online. The hostel I booked was not anywhere near town, even though it was stated to be in the centre. I was worried about not finding something as I was arriving late, but should have just waited until I got into town, as there were plenty of places available.
Khun Yuam to Mae Sariang --> 97km
This 97km push was the first day where I descended more than I climbed. Leaving town before dawn was the best decision possible, as I got to ride through the morning mists and really take-in the sunrise and see the countryside wake-up along-side me. This was the only time on the whole trip where I wore a jacket! I was lucky to be here after the rainy season, as it was still pretty cool in the morning and not as hot as the dry season of February, March, and April. Aside from a few short climbs on the way to Mae Sariang, the day was pretty easy riding, with some amazing descents through countless little villages and towns. 
I was fortunate to be in Mae Sariang for the Lantern Festival and think this town is really amazing and that everyone should take a rest day here before the final push back towards Mae Chaem and Chiang Mai. 
Mae Sariang to Mae Chaem --> 128km
In hindsight, this day should definitely be broken up into two days of riding. It was the most difficult day of riding I've ever done. 
Upon leaving Mae Sariang, the climb to the top of the mountain ridge begins almost immediately and goes on for the next 20km. Once on the top of the ridge, you get to ride along the ridge for the next 48km, which is absolutely epic, providing non-stop jaw-dropping scenery, all the while enjoying the cool mountain air, and of course many small short climbs. For speed demons, the next part is a 17km descent, which will just blow your mind away. The roads are fantastic, the views never-ending, and the descent a non-stop slalom. 
I would recommend finding a place to stay just before the epic downhill, as trying to make it all the way to Mae Chaem will challenge all but the absolute best riders. At the 93km mark, you will begin a climb which seems easy, but which slowly goes from easy to 10%, 20% and more. This lasts for 9km. It also happens to be around noon if you are doing it all in a day. It's way too hot. Do yourself a favour. Do it in two days. Take your time and enjoy the views of Doi Inthanon in the distance, and the farms you pass by, and the gentle but beautiful 26 km descent to finish the day. By the time I reached Mae Chaem, I was physically and emotionally destroyed. 
1 more day to go.
Mae Chaem to Chiang Mai -->
Although 112km from Mae Chaem to Chiang Mai, I wasn't much feeling like riding the last 50km down the highway, so I only rode the first 60km, with a 22km climb to start the day. This climb goes up the ass end of Doi Inthanon through countless hairpin turns, while once again providing beautiful early morning views of fog laden valleys, filled with small farms and amazing views. When you are way up in the mountains and you finally see the downhill sign, your heart flutters with the anticipation of the oncoming downhill. But before that downhill, you reach the junction where you must decide whether to go up for another 9km and 900 metres of elevation or whether to head downhill.
I decided to head down, as I had really pushed my limits the previous 5 days of riding, and felt it wasn't worth the risk killing myself with exhaustion. If you have time, I would highly recommend you go up as it is supposed to be quite amazing. 
Aside from a few shorts climbs, it's downhill all the way until you reach the highway. There is a beautiful river on the way down, and at around the 52km mark, there is a calm portion of the river with paths off the road where the locals go for a dip and rest. Take the time to enjoy the cool waters before finishing off the descent and reaching the disgustingly hot and boring highway back to Chiang Mai.
I opted to take a "bus" for $5 and enjoy my time sightseeing in Chiang Mai.